OAAA E-Weekly February 6, 2023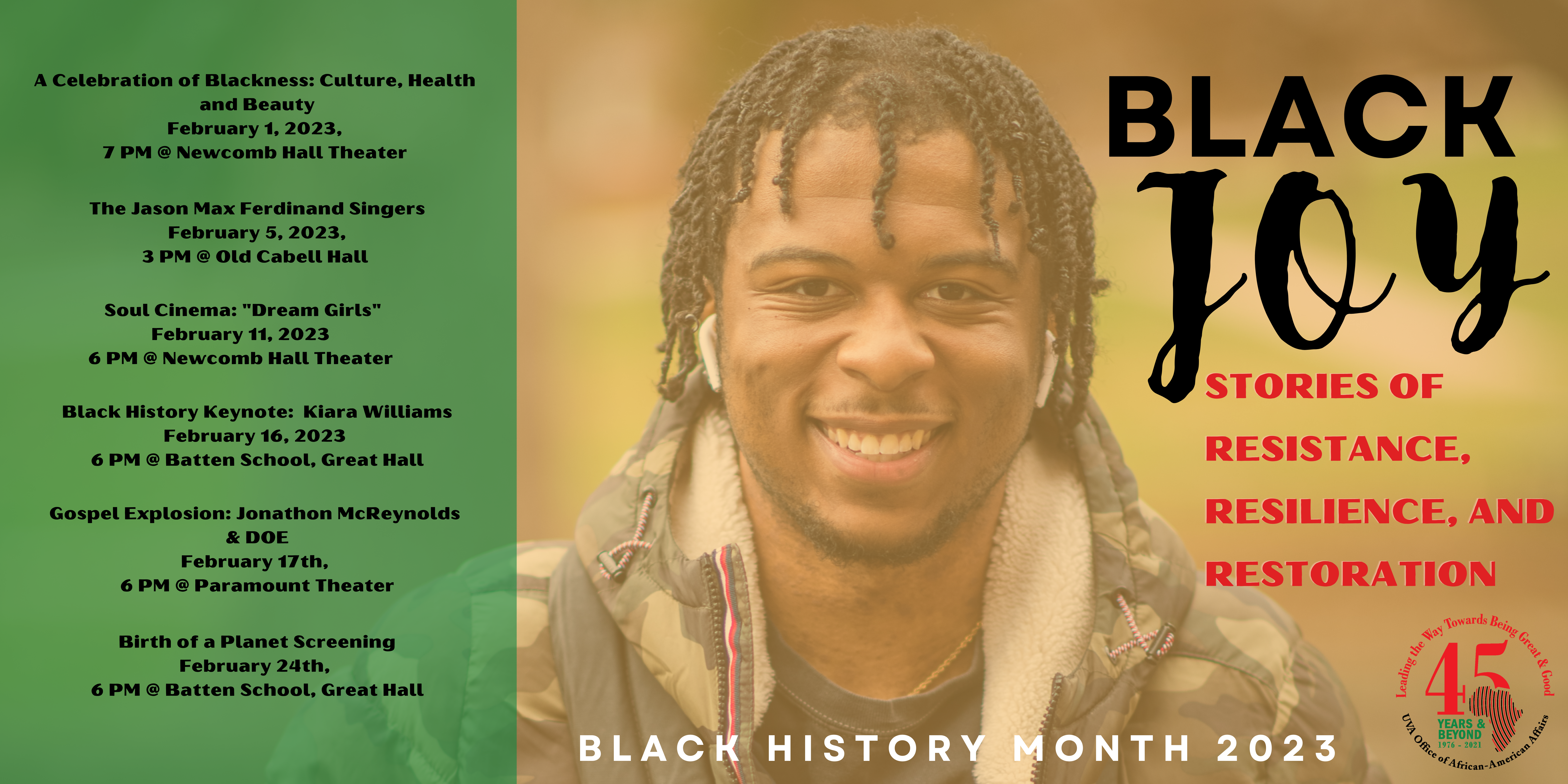 "The thing about Black history is that the truth is so much more complex than anything you could make up." — Henry Louis Gates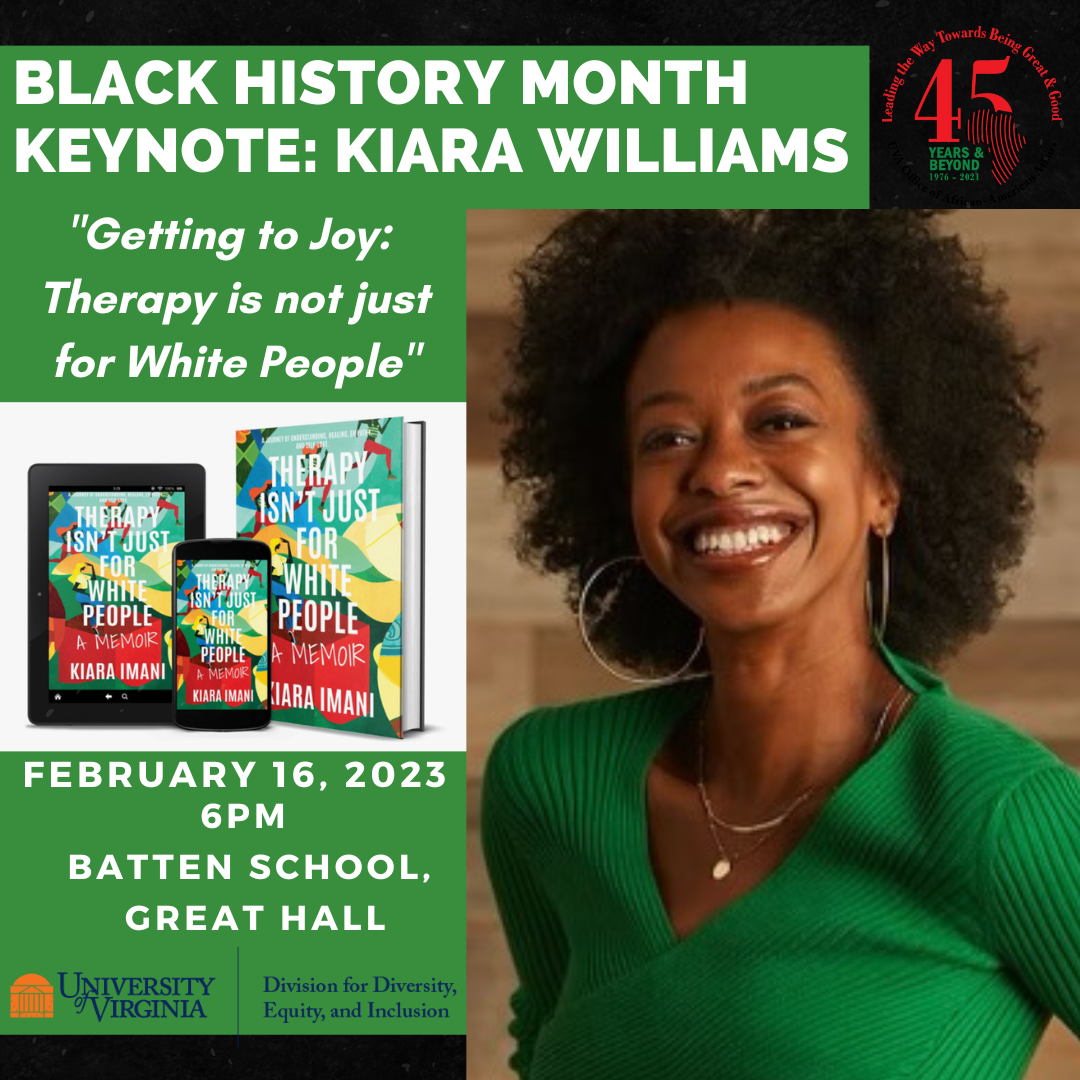 William M. Harris, Sr. "Resilience"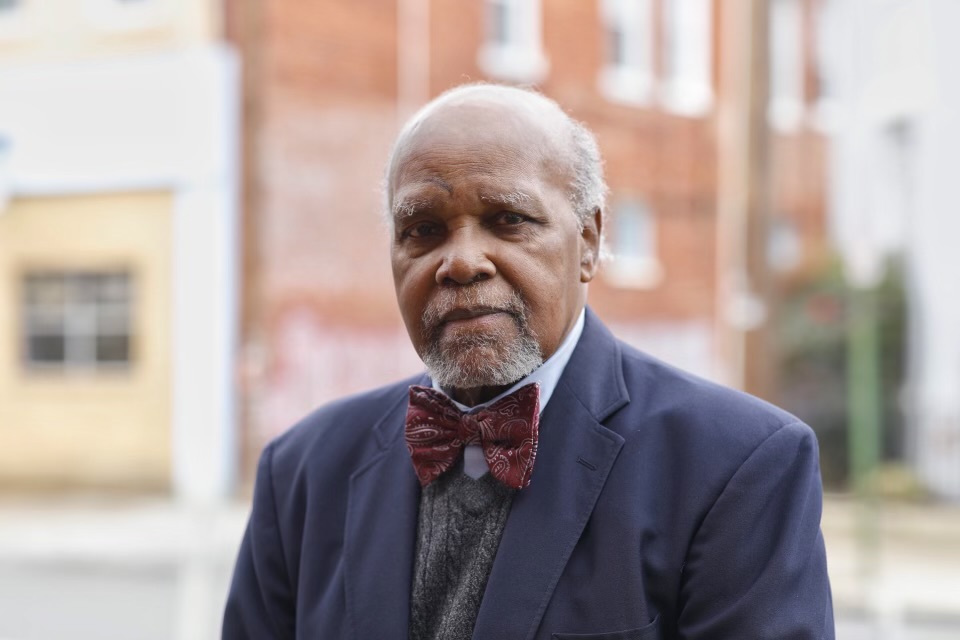 MARK YOUR CALENDAR
Spring 2023 Academic Calendar  
Saturday, March 4 – Sunday, March 12
Spring Recess 
Tuesday, May 2  
Spring Term Courses End 
Thursday, May 4 – Friday, May 12 
Examinations 
Sunday, May 7 & Friday, May 10  
Reading Days 
Friday, May 19 – Sunday, May 21  
Finals Weekend 
Schedule a Meeting with Your Dean
Selecting a Dean for a One-on-One Appointment
Many of you are aware of our spaces throughout Dawson's Row, some have figured out ways to engage with our programming, and most of you have broken bread in Dawson's Row with us and one another. In addition to the cultural programs we host, however, each Dean is available to meet with students to provide one-on-one support (i.e., academic, social, and emotional) to all our students.
For this transitional year, we have made a few significant changes to how students can make appointments with the Deans. All Deans are available to provide academic advising, support through difficulties, and sometimes, simply be a trusted mentor or guide.
Office of African-American Affairs: Schedule a Meeting with Your Dean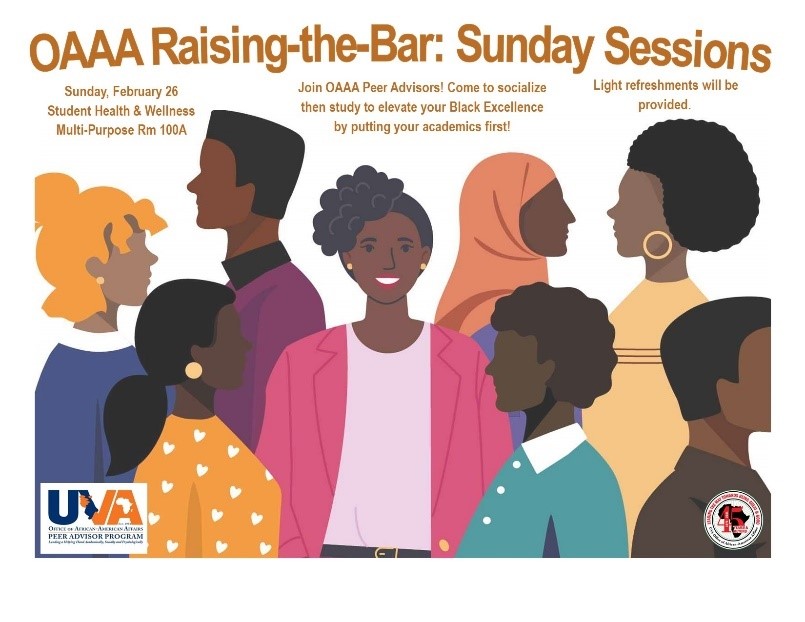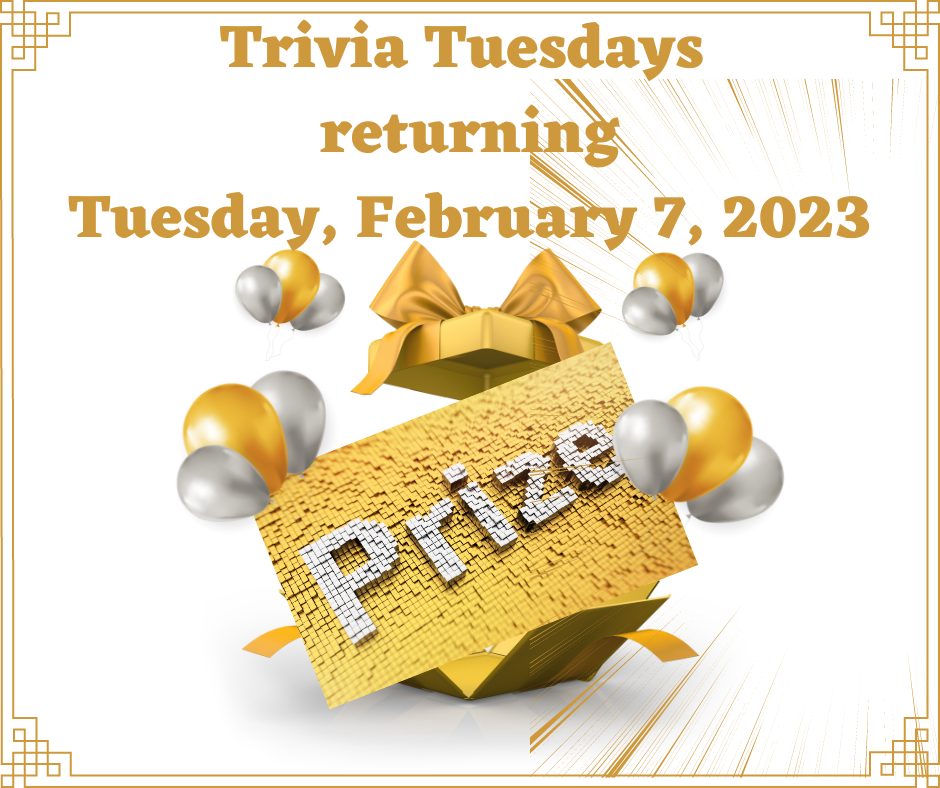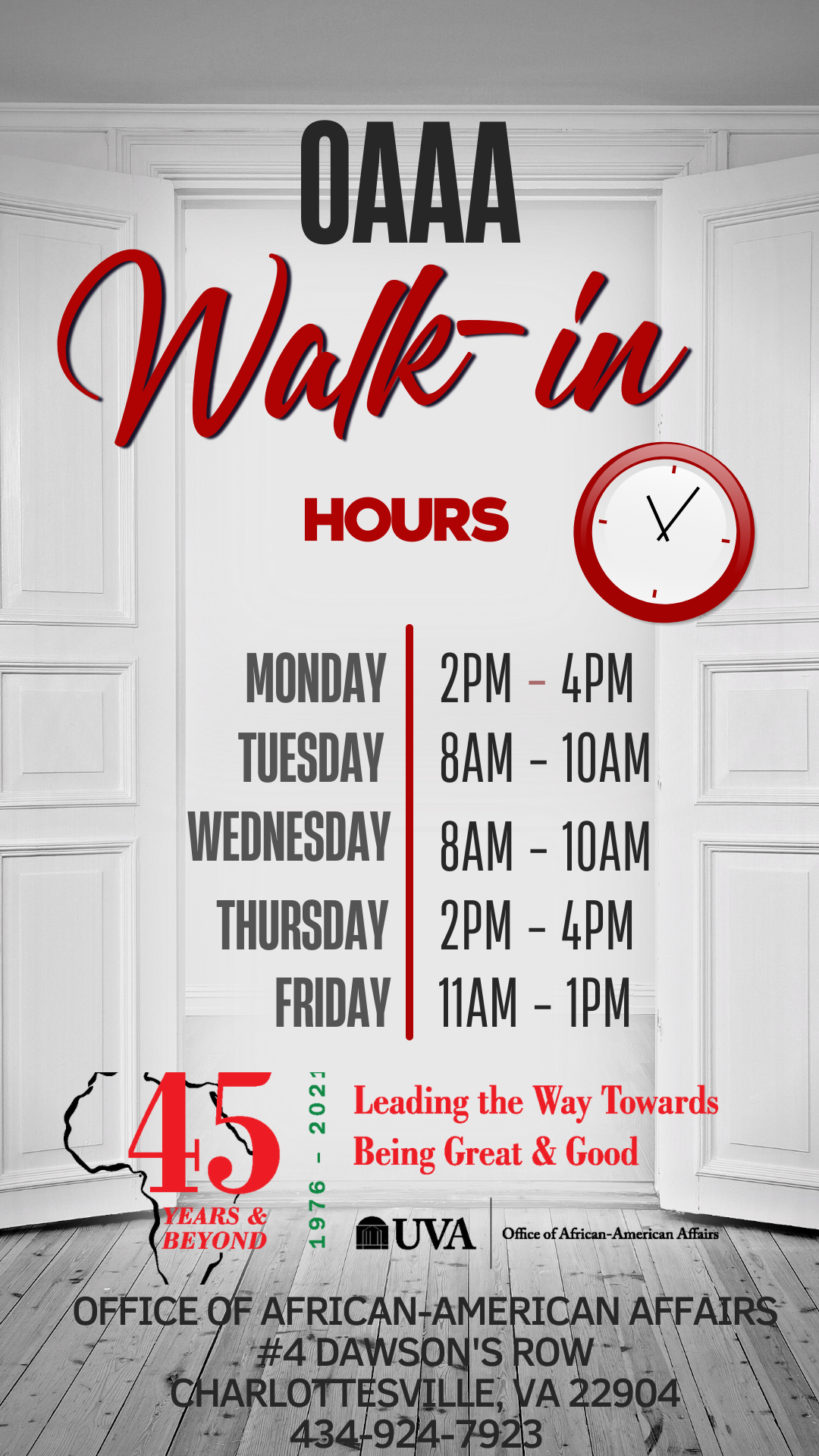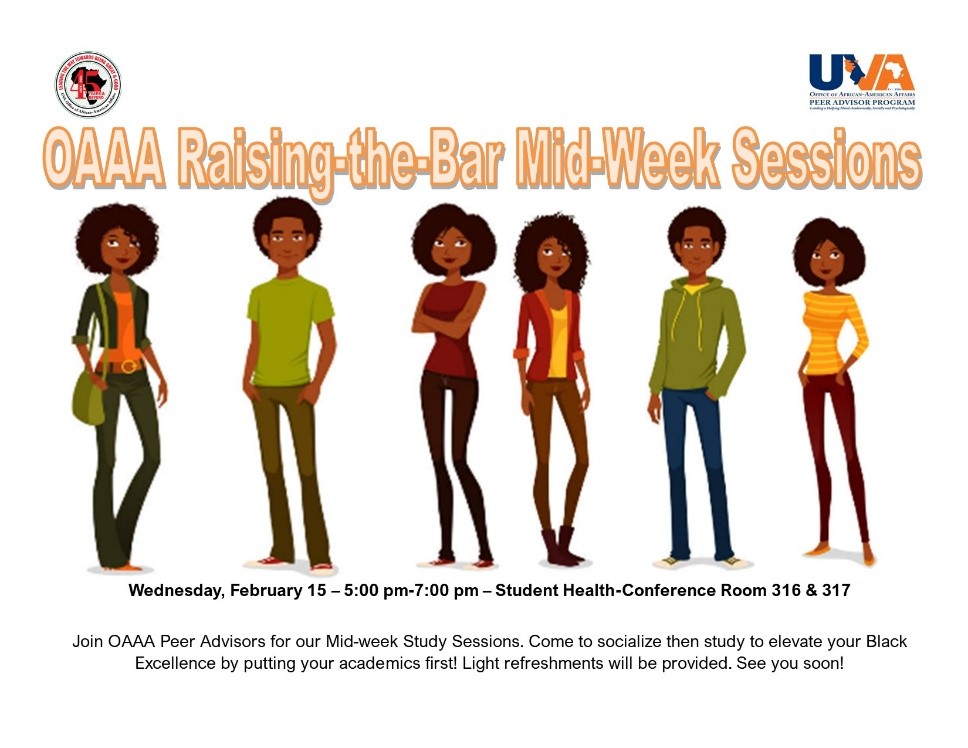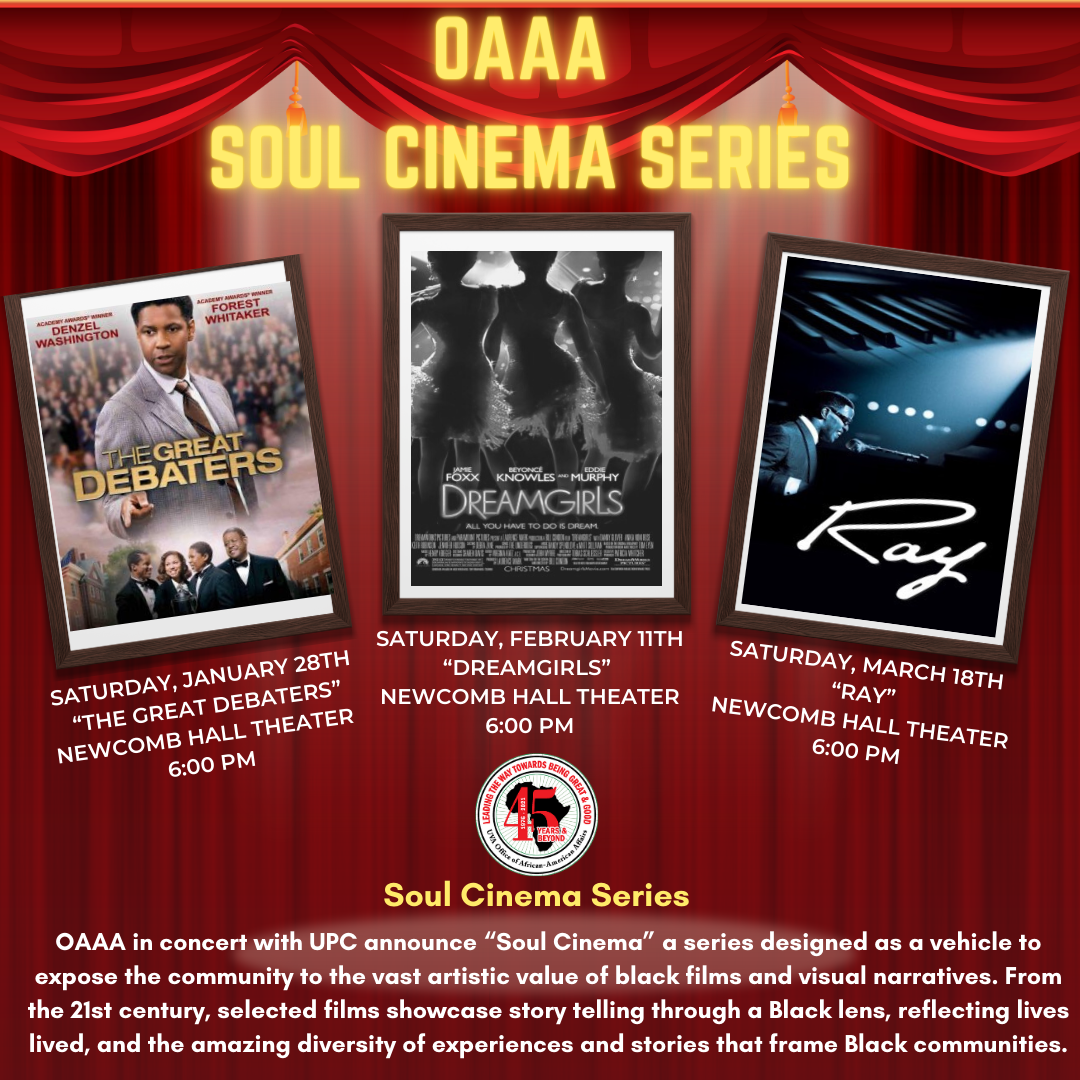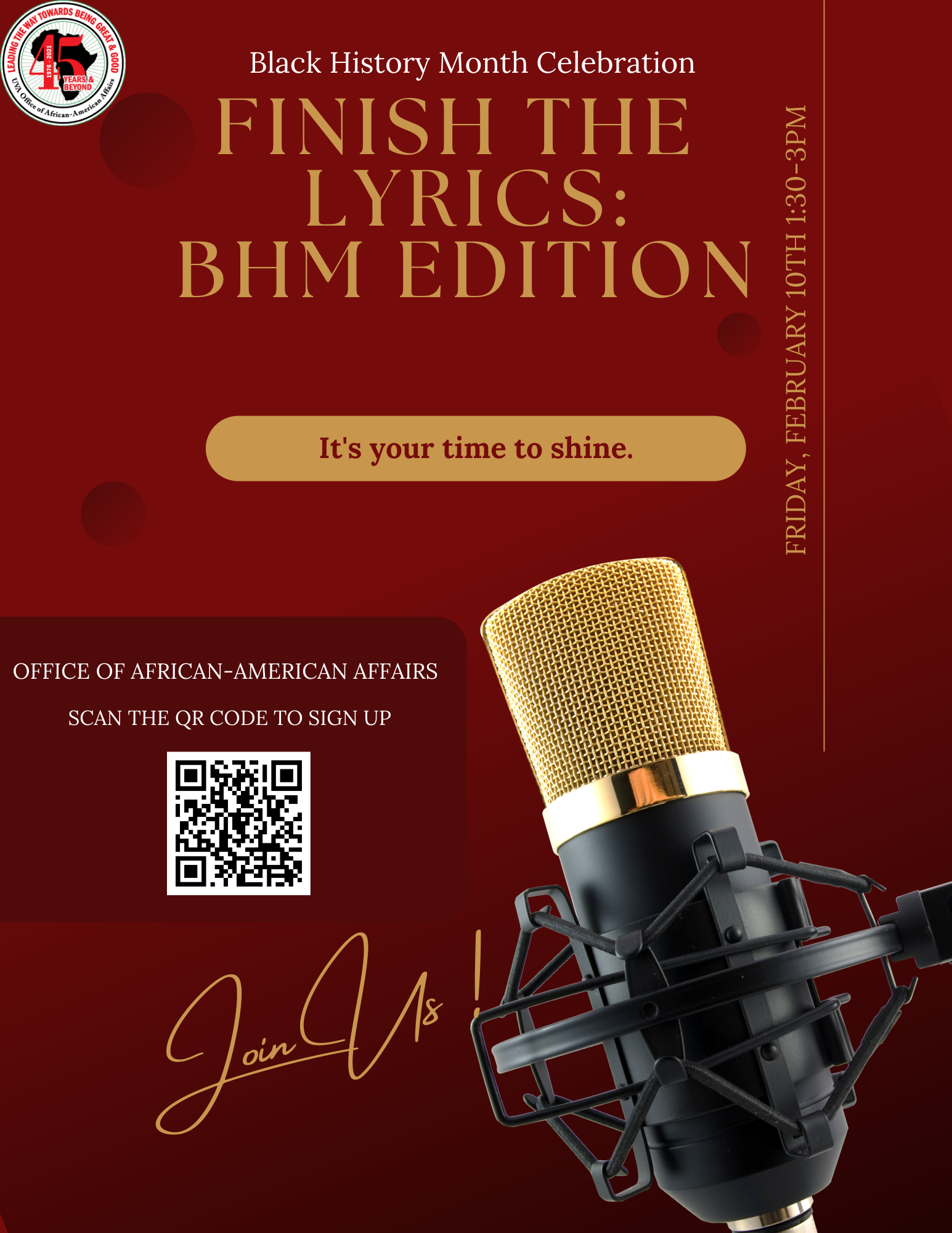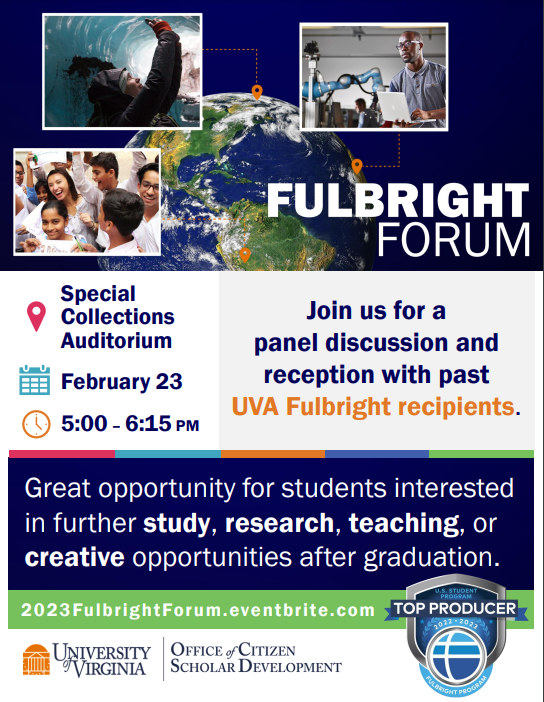 Opportunities with Deadlines
Apply to UVA's summer Global Internship programs!
Applications Due: February 15, March 1 and April 1
Interested in gaining both international and professional experience this summer? UVA offers academic global internship programs in Buenos Aires, Dublin, Ghent, Marrakech, Paris, and virtual (with organizations in Sub-Saharan Africa). Explore each unique program's brochure on the Education Abroad website to learn more about internship opportunities, courses, scholarships, and more.  https://educationabroad.virginia.edu/uva-programs
VCAC is Hiring College Advisers!
Apply today to serve students and make a difference in Virginia.
Looking for a fun, rewarding, and dynamic public service position after graduation? The Virginia College Advising Corps (VCAC) may be right for you! VCAC hires recent college graduates to serve as college advisers in high schools throughout the Commonwealth to increase the number of low-income, first-generation, and underrepresented students who enter and complete higher education. These near-peer college advisers guide students and their families through college planning, application, and financial aid processes with a particular focus on helping students find their "best fit" postsecondary option – whether trade/technical, two-year, four-year, public or private. College advisers undergo significant training and receive valuable professional development including guidance and support with career and graduate school goals. Advisers serve full-time for two years and in return receive a living allowance, health insurance, and an Educational Award upon completion of each full-time commitment. For best consideration, apply at at.virginia.edu/VCAC2023 (case sensitive) by 11:59 PM on March 10th, 2023.[email protected]. Stay Connected: Follow us on Instagram @virginiacollegeadvisingcorps to see our current college advisers in action! https://vcac.virginia.edu/college-adviser-position-description
Want to learn more about VCAC? Join us for one of three Winter Info Sessions on February 8th @6pm, February 15 @6pm, & March 1 @6pm. Sign up for a session at at.virginia.edu/VCACinfosession (case sensitive). Questions: Contact Program Coordinator Madi Barnes,
Cornerstone Summer Institute Counselor Applications Now Open!
Wednesday, June 21-Friday, June 30
The UVA Cornerstone Summer Institute is an eye-opening weeklong summer program for high school students to learn about slavery and its legacies and develop thinking skills that prepare them for success in college and beyond. The program focuses on uncovering the history of the area through historical investigation, archaeological excavation, and community engagement. Counselors of this camp are facilitators of learning who help students reckon with their own racial identities and their place in the world. Each counselor will lead a project group of 5 campers and serve as a role model for all. Counselors will receive a stipend for the week ofmailto:[email protected] the camp. All meals and housing will be provided. Apply Now! For More Information. Contact Name Ashley Schmidt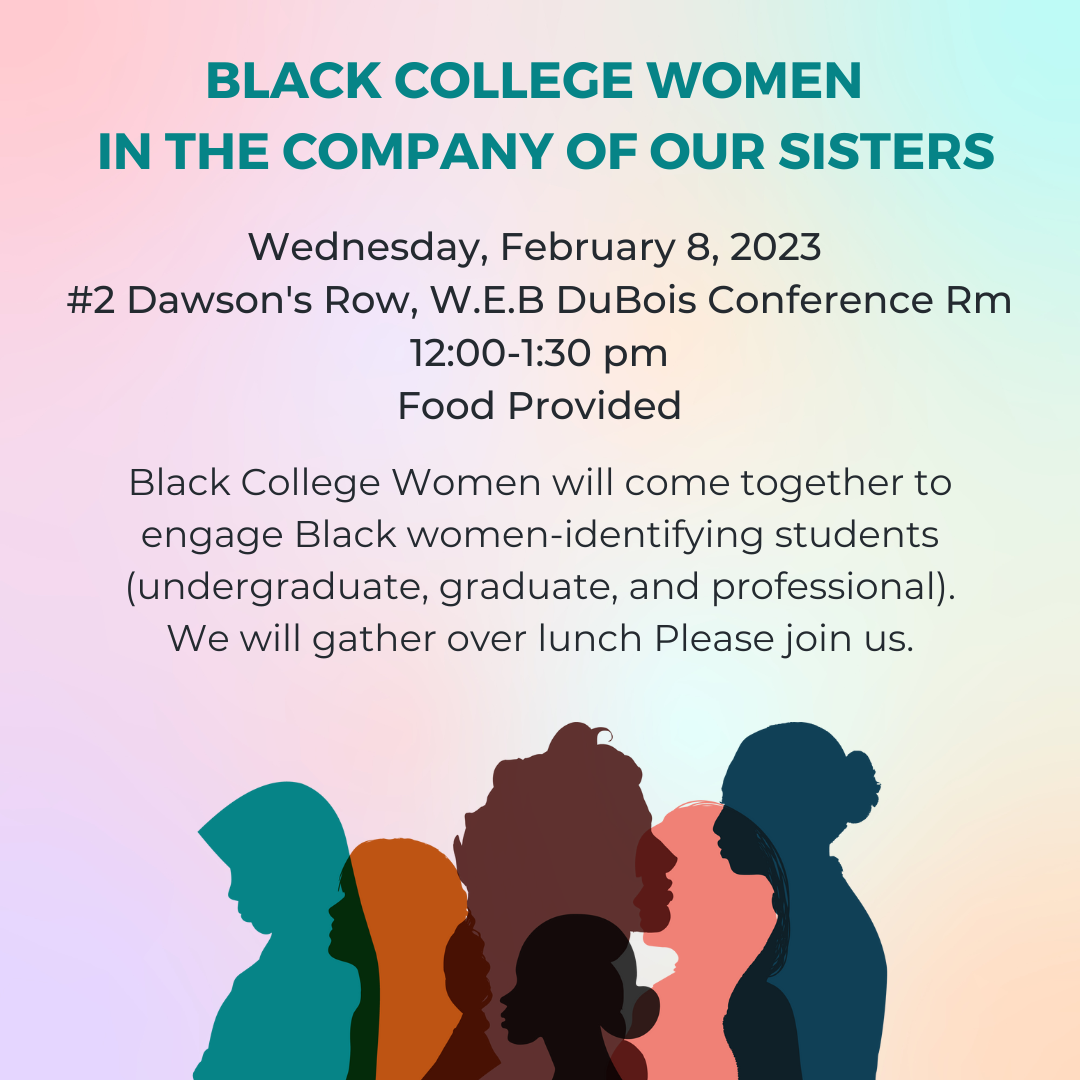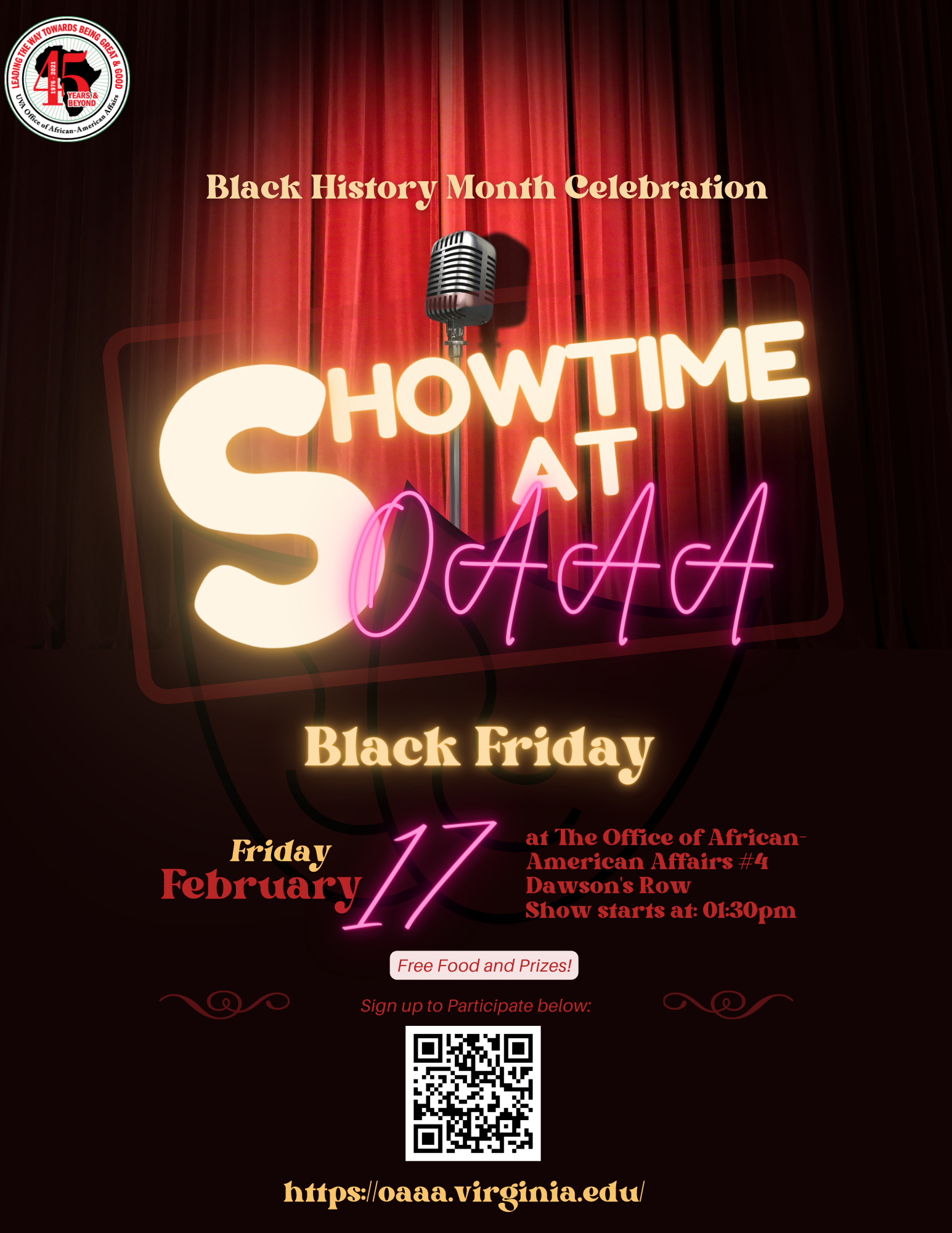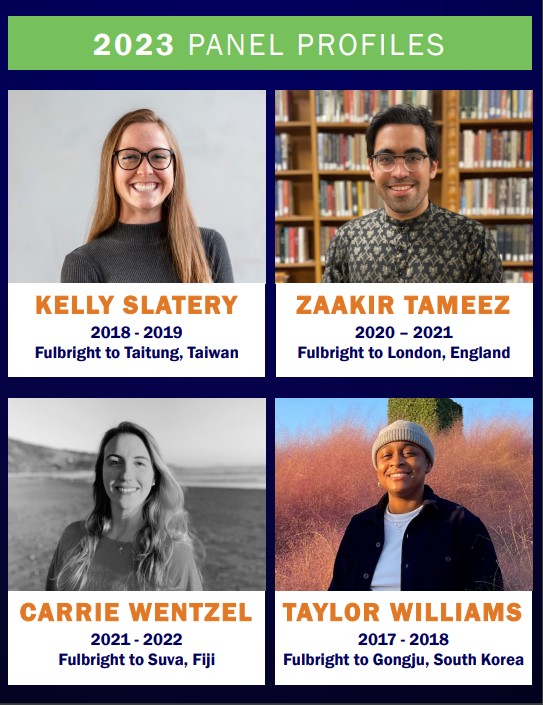 Upcoming UVA Events, Learning & Services
2023 Fulbright Forum
Thursday, February 23 - 5:00 pm-6:15 pm – Special Collections Library Auditorium
This is our kick-off event for the Fulbright process. We are welcoming back four past UVA Fulbright recipients for a panel discussion and reception. The Fulbright funds further study, research, teaching, or creative opportunities abroad after graduation. Join us for a panel discussion and reception. For more information. Contact: Office of Citizen Scholar Development
Fellowships & Undergraduate Research Series
Mondays – 4:00 pm – Rotunda Multipurpose Room
Our regular series continues. The introductory workshops are the best first touch point with our office. The full schedule is here.
Daniel Hale Williams Pre-Health Honor Society's (DHW) Pre-Health Fair
Wednesday, February 8 – 6:00 pm-8:00 pm – Student Health and Wellness Building, Room 100A
The fair will feature speakers from UVA's Summer Medical Leadership Program, UVA's Internship Placement Program, VCU's Masters in Genetic Counseling, the VA-NC Alliance Summer Research Program, the UVA Sports Medicine Volunteer Program, and some resources from the Princeton Review. There will also be a slideshow highlighting some pre-health student organizations on Grounds as well as the Annual Medical Education Conference! We invite any student who is interested in the health professions to join us. Please reach out to Danielle Johnson ([email protected]) or Tenneh Bonsu ([email protected]) if you have any questions or concerns, and we hope to see you there!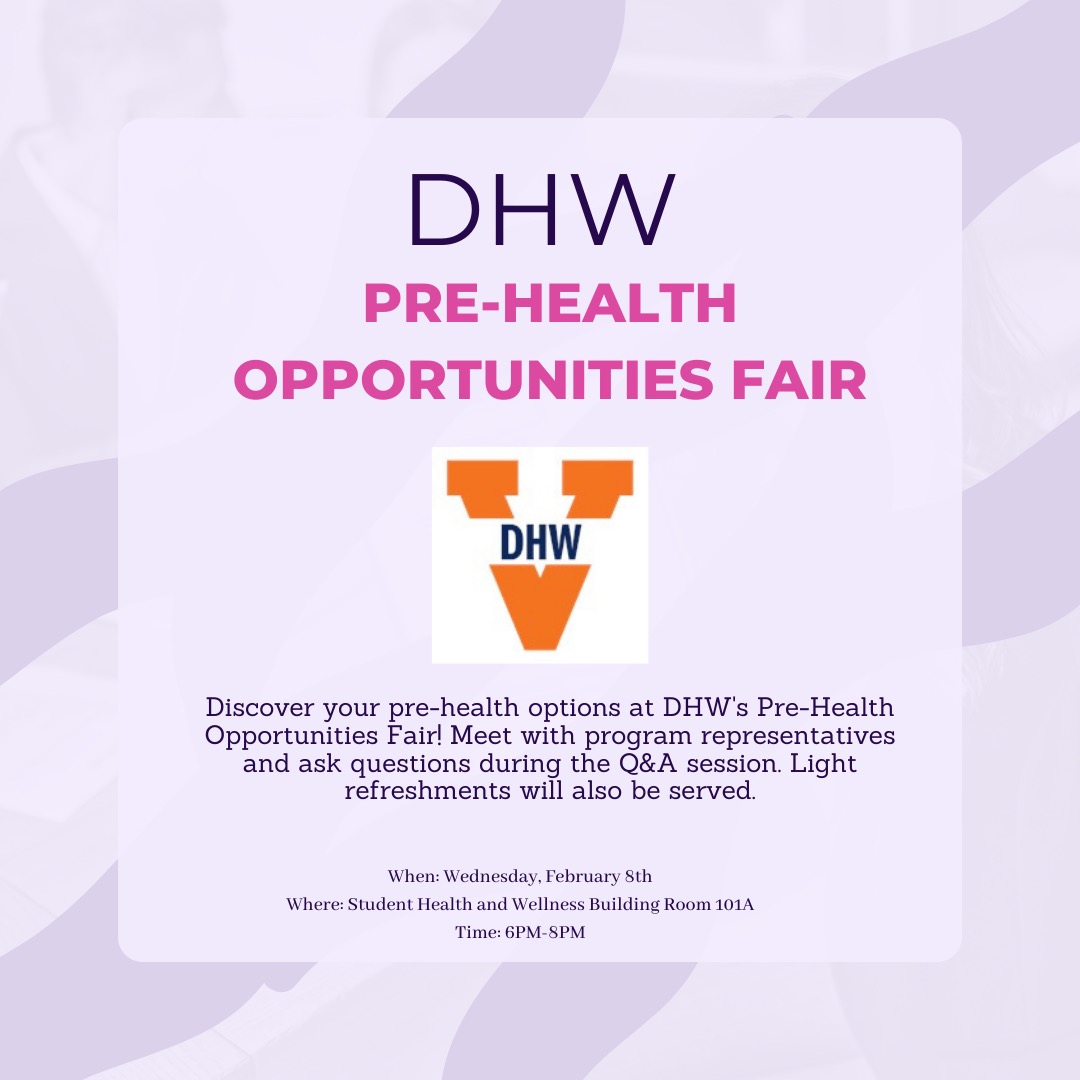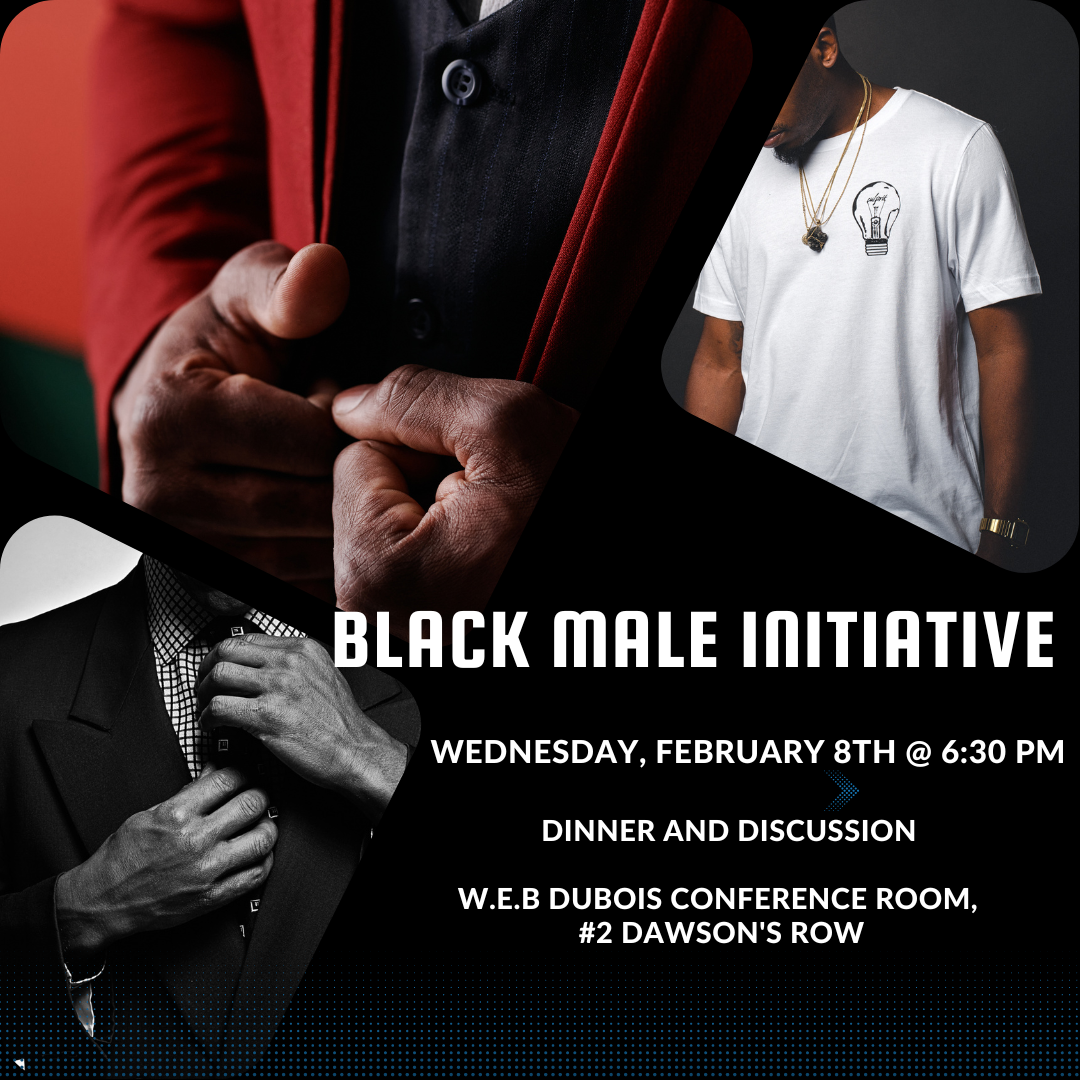 Did you know? Alfred L. Cralle invented the Ice Cream Scoop on February 2, 1897. Cralle was born in 1866 in Kenbridge, Virginia and grew up helping his father in the carpentry trade. While working as a porter for a hotel, Cralle noticed that people were having a hard time scooping ice cream with ordinary utensils, so he decided to create a device that would help, according to The Undefeated. In 1897, Cralle had patented the Ice Cream Mold and Disher (U.S. Patent #576395), although he never profited from it, designed to not only scoop ice cream but also keep it from sticking to the device to make the process a lot easier. His handy invention is still used today.