Image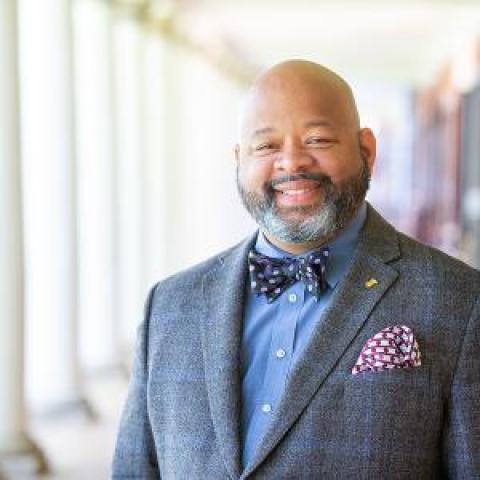 Interim Dean, African-American Affairs
Bio
Dr. Michael Gerard Mason joined the staff of African American Affairs in the Spring of 2015. He serves as an Associate Dean and as the Director of the Luther Porter Jackson Black Cultural Center. He believes that "As a people, we must be diligent in our struggles to understand and appreciate the meanings of Black (historically and currently) to each of us individually and, to the extent possible, to us all collectively. It is equally important to connect this understanding and appreciation of the ways we prepare our students for leading, learning, and living as young Blacks in our global society." As the Director of LPJBCC, Dr. Mason is responsible for creating opportunities to link Black culture and identity development to the whole Black student experience.
Before joining the OAAA staff full-time, Dr. Mason held several positions at the University. In 2008, Dr. Mason joined the faculty of the Counselor Education department in the Curry School of Education as an Assistant Professor. In 2010, he transitioned to a Clinical position, Multicultural Specialist, in the Elson Student Health Counseling and Psychological Services Department, where he served as a staff psychotherapist and liaison to African American Affairs.
In this capacity, he served as the Director of Project RISE, a peer counseling project created for Black students by Black students. CAPS and OAAA jointly sponsor project RISE. Dr. Mason developed the training for all of the student peer counselors and peer supporters; in the Fall of 2014, this training became available University-wide as the Hoos Helping Hoos Initiative. Each semester, Dr. Mason teaches one to two courses through the Curry School: (1) EDHS 3895: Peer Counseling Theory and Technique and (2) EDHS 5241: Peer Support Program Research, Design, and Evaluation.
Dr. Mason is assigned to the fourth-year class and is available to help each student in this class as they prepare for life after graduation. Dr. Mason is also a member of the University's Crisis Management Team. As a Dean on Call, he provides support to students experiencing acute difficulties and connects them to university resources that help them cope as they continue learning. Collaboration with colleagues across grounds is essential to both of these functions. He also continues as a Multicultural Specialist in Elson Student Health Counseling and Psychological Services.
Dr. Mason earned a BS in Biology from Dillard University, a historically Black college and university (HBCU) in New Orleans, an M.Ed in Community and School Counseling from the University of New Orleans, and a Ph.D. in Counselor Education and Supervision from the University of Virginia. His dissertation, "DuBois's Double Consciousness: Unifying the Singular Experiences of Black doctoral students in Predominantly White Institutions," has served as an essential focal point of his research, practice, and training relative to the Black student experience in higher education.